by David Schmidt 7 Feb 08:00 PST February 9-11, 2018
If you're seeking the most speed and fun that one can have aboard a high-performance 20-foot racing sailboat, the Melges 20 could be your answer. The boat, which was introduced about a decade ago, has long turned heads with its little-big-boat looks and its powerful rig and sailplan, also benefits from a strong class that puts together a fun and competitive winter-sailing schedule to keep owners and crew engaged during the cold, ugly months. This combination of power, performance, and a supportive class—in addition to the boat's "legs-in" hiking rule—has made the Melges 20 a popular boat and a perfect gateway to Melges' bigger and even higher performance rides such as the Melges 24, 32, and the new IC37.
While the class draws sailors from all over the world, a bulk of participants call North America and Europe home, meaning that the winter months are great for shoveling snow but not for racing sailboats, so the class has long-since adopted a winter migration route that takes competitors to the flat, sunny and usually wind-kissed waters of Biscayne Bay. Not surprisingly, this winter-racing series has proven to be popular with sailors, especially those who would otherwise be home dealing with "the white stuff", or worse, the ultra-slippery-but-hard-to-see black stuff on roads, sidewalks and boat parks.
This year, the class is holding (or has held) a total of three events, the first of which took place from December 1-3, 2017. The second event is set to unfurl on Biscayne Bay from February 9-11, 2018, while the final regatta will be decided from March 16-19. The Coconut Grove Sailing Club, which is located in Miami, is hosting all three of these exciting One Design regattas.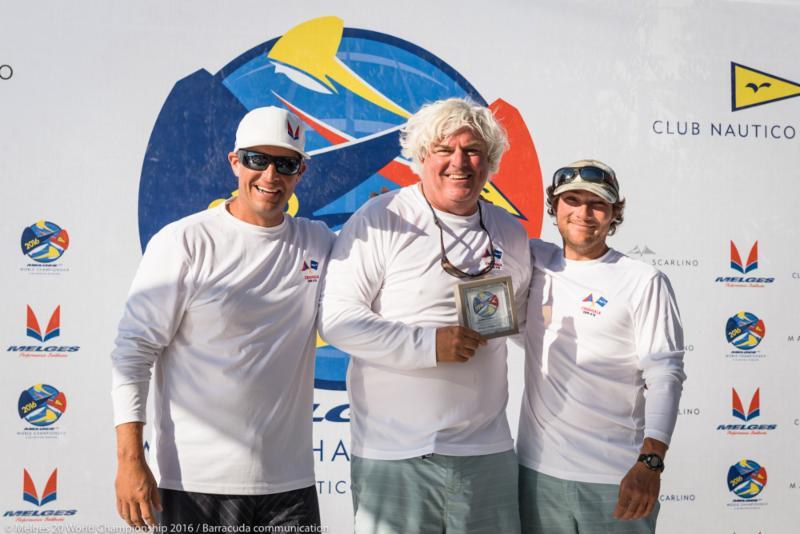 Rob Wilber (center) and his Cinghiale team featuring Sam Rogers (left) and Ben Allen (right) happily accept their daily award for winning race 5 on day 2 of the Melges 20 World Championship - photo © Barracuda Communication
I caught up with Sam Rogers, North American fleet manager for the Melges 20 class, via email, to learn more about the class' 2017-2018 Miami Winter Series.
Did the 2017 hurricane season pose any extra hurdles for the 2017/2018 Melges 20 Miami Winter Series? If so, how did the event deal with any storm-related disturbances? Were there any unsung heroes or organizations or yacht clubs that really stepped up to enable this winter's racing?
The damage in Miami was visible when we arrived for our first Winter Series event in December. The docks where the boats normally stay were gone, there were abandoned boats everywhere and a lot of the vegetation had taken a hit. But with the resilient people at Coconut Grove Sailing Club and Shake A Leg, they were able to get enough structure together to make sure the Melges 20 fleet could launch and dock our boats for the weekend.

I cannot say enough about the positive attitudes of all the people that are associated with Coconut Grove Sailing Club and Shake A Leg that worked around the clock to ensure we could have our first event. It was a great feeling to be back in Miami, and you got the feeling that us being their was an important part of [the local community's] healing process.
Given the booming economy, how have entry numbers been for this year's Winter Series?
Numbers continue to be strong in Europe, and after our successful 2017 World Championship in Newport, RI, a few teams have taken a well-earned hiatus from [their Melges] 20 racing. However we still have numbers in the high-teens/low-twenties, which is what was expected this Winter Series.

The Melges 20 class has been coming to Miami for nine years, making it one of the longer standing Winter Series circuits in North America.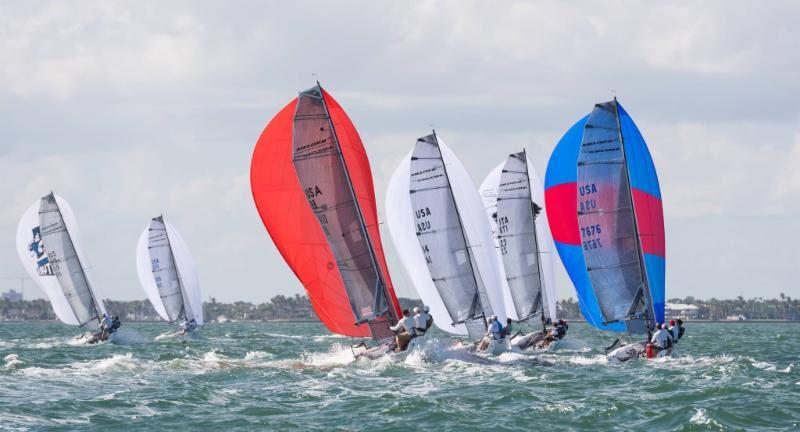 2017-2018 Melges 20 Miami Winter Series - Day 2 - photo © IM20CA
What about the bigger-picture international class? Using the Miami Winter Series as a prism to look at the health of the larger Melges 20 class, what are you seeing?
The Melges 20 class continues to remain strong and attract elite owners and sailors who are looking for a fun boat to race, and [to] compete at a high level.

The Worlds will shift to Cagliari, Italy this coming October, which should see over 60 boats. The North American schedule has some new highlights with the U.S.

Nationals taking place in Charleston, SC from May 18-20. This event will also serve as a rallying point to help get some new owners into the class that are looking for a fun fleet, or that are currently underwhelmed with the current one-design boat and class [that] they are racing with.
Are you seeing the usual suspects returning years on year, or has there been an influx of new blood in the past year or so? Also, are most of your entrants U.S.-based or are they European teams?
It has been a good mix of veteran and new teams over the past few years. The new owners and teams that come in really seem to love the experience and challenge of the Melges 20 Class and have been a great addition.

Owners like Bob Moran and Steve Boho have jumped into the 20 with both feet and are committing themselves to sailing the 20 as much as possible. Then you have owners like Paul Reilly, Rob Wilber, Alexis Michas, Jason Michas, Jim Wilson, Daniel Theilman, Wes Whitmeyer, Drew Freides and John Brown who continue to race their 20s hard and attend most events.

We have seen a lot of foreign teams come to Miami this winter to take advantage of the warm Miami weather. [For example,] Achille Onorato's, Igor Rytov's and Vladimir Proshikin's teams have been a great addition to the fleet.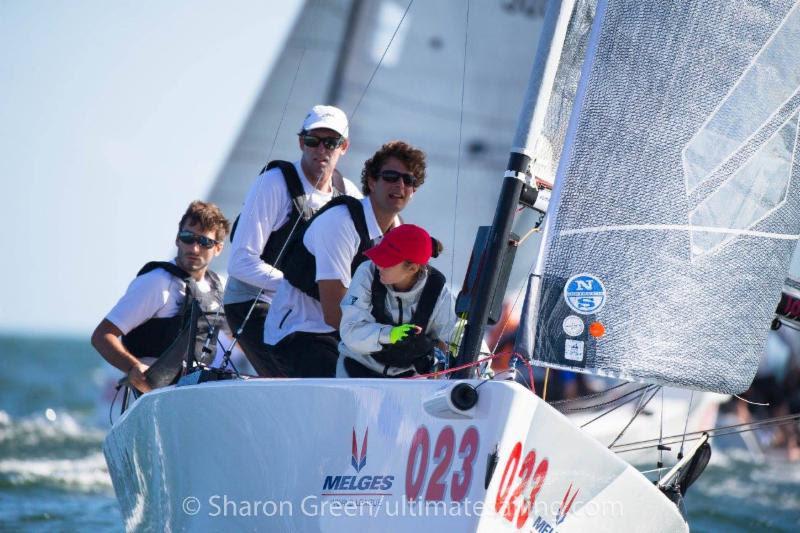 2017-2018 Melges 20 Miami Winter Series - Achille Onorato, MASCALZONE LATINO, JR. - photo © Sharon Green / ultimatesailing.com
Provided that Mother Nature cooperates with the regatta's schedule, what can first-time entrants expect from the second event of the 2018 Melges 20 Miami Winter Series?
We always aim for eight races at our Winter Series events, and we were blessed with near perfect conditions [during] the December event with eight races, all completed in 12-18 knots of wind from the northeast.
It could be argued that Biscayne Bay is the best racing venue in North America for One Design fleets, and it is very rare where you have a day of no wind or too much wind.
Fingers crossed [that we'll] get some sunshine and a nice Miami seabreeze that will allow for eight great races. Whatever the direction ends up being, the sailing is always challenging and it never gets old in Biscayne Bay.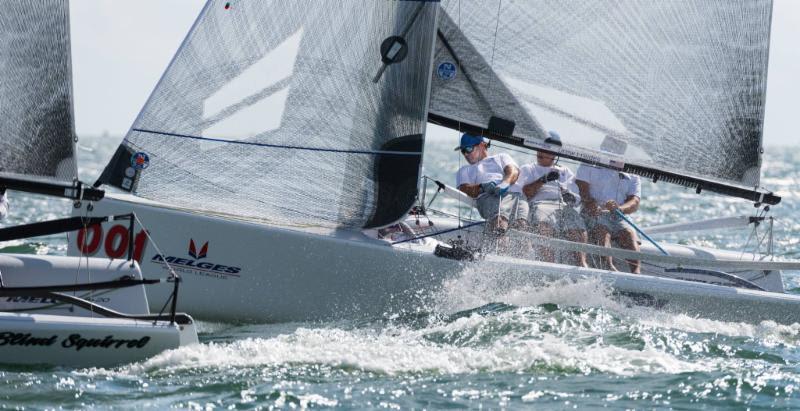 2017-2018 Melges 20 Miami Winter Series - Drew Freides, Pacific Yankee - photo © IM20CA
While we all know the slippery parental lineage of the word "assumption", are there any teams that you're eyeing for podium finishes for Event 2 based on what you saw in Event 1?
Drew Freides and his team on Pacific Yankee are the team to beat; they won the Worlds with a race to spare and they won the first [2017/2018] Winter Series event in December. But there are a pack of 10-12 teams that if they can get hot and find consistency, [they] can easily grab a podium finish.

The Russian teams owned by Vladimir Prosikhin and Igor Rytov could be good podium picks, and either of the Michas teams can win races and find themselves in the top three.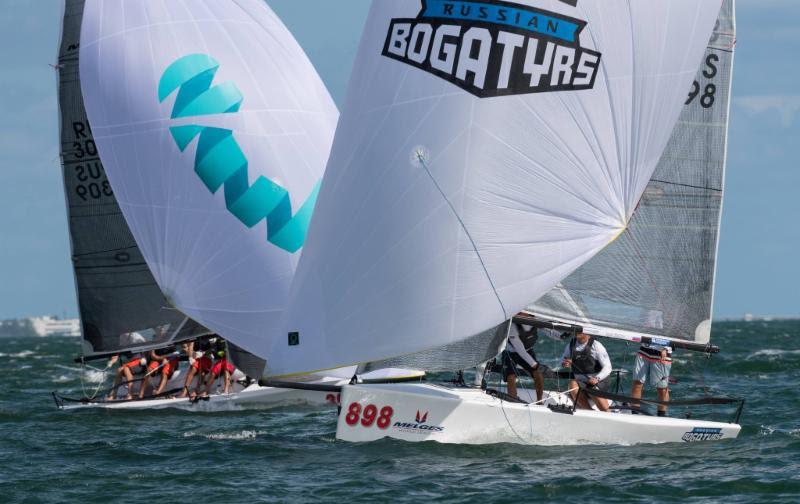 2017-2018 Melges 20 Miami Winter Series - Igor Rytov, Russian Bogatyrs - photo © IM20CA
Anything else that you'd like to add, for the record?
Each time the Melges 20 class does another event on Biscayne Bay, it is a great reminder of why this venue is so great: Awesome host club with a laid-back vibe; great, no-frills sailing with a short sail to and from the race course; warm sunshine and water, and a great family-friendly city.

The Melges 20 Class cannot thank our partners Coconut Grove Sailing Club and Shake A Leg for making our winters in Miami so enjoyable.